Brothers
This assortment of 36 pieces contains 8 mulit-shot cakes, 2 artillery shell kits, 7 packs of roman candles, 8 boxes of helicopters, 6 fountains, 2 novelties, 1 pack of firecrackers, and 1 wheel.
Contents:
MS172 Magnificent Festival x 1/1
MS202 Bling Bling x 1/1
MS218 Matrix Pyro x 1/1
MS216 Super Stock Car x 1/1
MS173 Mechanical Bug x 1/1
MS292 Super Stallion x 1/1
Happy Holidays x 1/1
RL151 Smoke N Mirrors x 1/6
RL116 American Chief x 1/12
RC111 American Lancers x 5/4
RC108 Crazy Aces x 1/4
Pyro Paint Balls x 1/10
FN186 Ecstasy x 1/1
Bowl Season x 1/1
Mortar Magic x 1/4
Rapper x 1/1
Clowning Around x 1/1
NF104 Magic Crystal x 2/4
NF112 Ladybugs x 5/3
The Mighty Dragon x 1/1
Hail Storm x 1/1
NV221 Hyper 8 x 1/2
Mini Mania Fountain x 4/8
Frontline Fountains x 1/2

*Packing on all assortments is subject to change at the discretion of the manufacturer.
Dimensions 34.3 L × 21.6 W × 7.3 H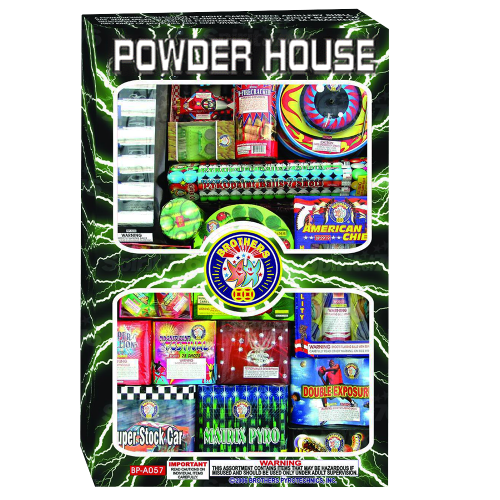 Spirit of 76
Customer Comments
Posted by John G | December 22nd 2011
I haven't used this one myself but I gave it to my sister in-laws family each of the last two years. I am now the favorite uncle. My in-laws think it's a good pack and want one again this year.