Spirit of 76 Blog
Top 10 Best Fireworks Shows - United States

Each year, cities and organizations across America host celebrations that use fireworks in some way. The weeks leading up to Independence Day, most commonly known as the Fourth of July, is when the largest number of fireworks is used. There are many amazing large scale, professional fireworks shows as well as great shows produced on a smaller scale. Below is a list of what is considered by some to be the Top 10 Best Fireworks Shows, in no particular order:
Fireworks fall into two general categories: display fireworks, also known as 1.3G and consumer fireworks, 1.4G. In the United States, the Federal government has assigned regulation of fireworks laws to the US Consumer Product Safety Commission (CPSC) and to the Bureau of Alcohol, Tobacco, Firearms and Explosives (ATF). Each branch has different areas of responsibility for fireworks laws.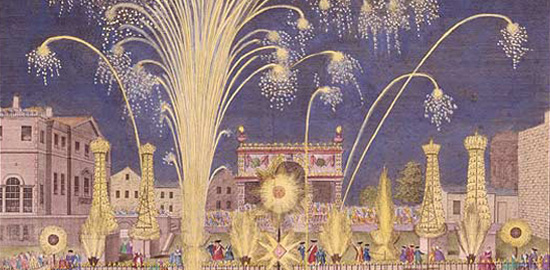 Most of us associate fireworks with the 4th of July and New Year's celebrations. We have come to expect a fireworks show at concerts, during the Super Bowl and at other festive events. And while most of us have some personal experience with fireworks, whether it is a sparkler, a firecracker, or a larger cake, the majority of us have no idea about the history of fireworks or why they have come to be so closely connected with celebrations.

When I hear the word "firecracker", I automatically think of the Fourth of July and other celebrations where noisemakers make everything more exciting. The loud bang and pop, the smell of smoke in the air, and the pieces of paper left over in the aftermath remind me of fun times spent with friends and family.
Simply put, firecrackers are pyrotechnic composition wrapped in paper or plastic with a fuse. When the fuse is lit, the heat causes the compounds to react, creating pressure that eventually explodes. The loud bang is the result of the wrapper being blown apart.

A 10% tariff is set to go into effect on January 1st, 2019 for ALL goods imported into the US from China. Unfortunately, this includes fireworks.
Customers who purchase NOW can avoid the price increase on in-stock fireworks. To help you save even more, we are offering 10% off shipping.
Hurry, this offer ends January 15th . To qualify, place your order by January 15th with a 50% deposit. Your order must be paid in full and ship out by February 15th. This offer is good with Special Order and all retailer pricing levels, but cannot be combined with any other offer or discount.
Use coupon code TARIFF at checkout or call 573-447-1776 to place your order.